Lifeline SPAC I Plc is a Finnish Special Purpose Acquisition Company founded for corporate acquisitions. We raised capital with an offering and listed on the SPAC segment of the regulated market of Nasdaq Helsinki. Our objective is to carry out an acquisition within 24-36 months from the planned listing.
We offer investors an opportunity to invest in companies that retail investors or many institutional investors otherwise would not be able to invest in, because these kinds of investments are typically made by later-stage private equity funds. Our aim is to generate profit for shareholders and increase the value of the target company by supporting its growth and development also after the acquisition.
Our primary strategic goal is to identify and merge with an unlisted technology-focused Nordic company with high growth potential.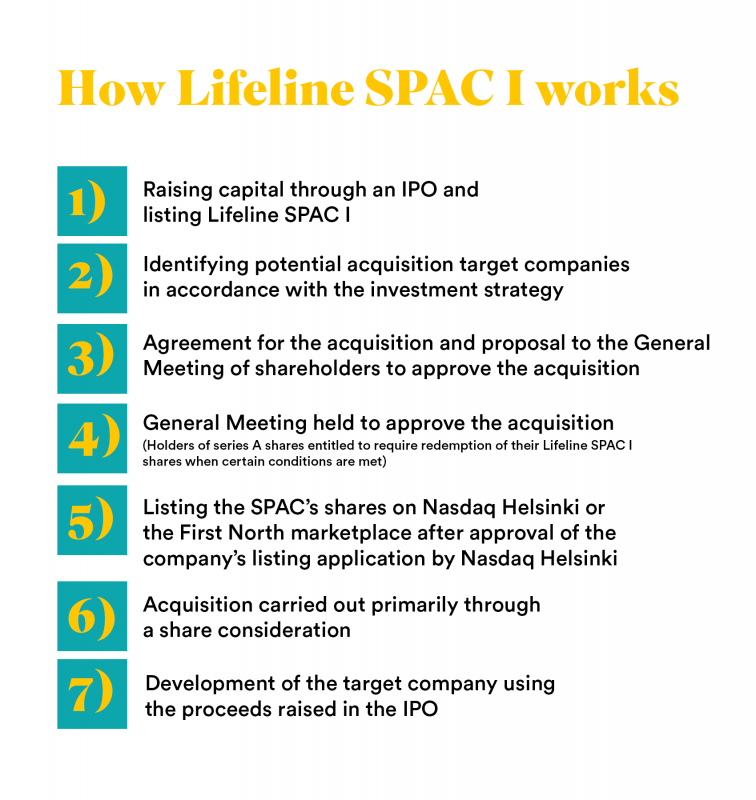 Members of our Board of Directors and Management Team as well as our sponsors have broad contact networks and experience in financing and developing technology growth companies. We are seeking a target company with a proven business model and a clear business plan.
The company's sponsors have several years of experience in financing and developing technology growth companies. The company's founders are Lifeline SPAC I's CEO Tuomo Vähäpassi and CFO Mikko Vesterinen, who are in charge of the company's operational activities. The founding partners have a long experience of M&As and capital markets.